Welcome to Bidwell Junior High School
2376 NORTH AVENUE . CHICO, CA . 95926
Phone: (530) 891-3080
Fax: (530) 891-3082
PRINCIPAL: JUDI ROTH
ASSISTANT PRINCIPAL: LAURIE DEBOCK


Enrollment: 588
Constructed: 1959
School Colors: Black and Gold
School Mascot: Pioneers


BE SAFE, RESPONSIBLE, & RESPECTFUL
Parent and Student Information
Welcome to Bidwell Junior High School
School Supply Wish List
Tdap Vaccine for Incoming 7th Graders
All students starting 7th grade in August will need proof of a whooping cough booster (Tdap) shot before starting school.
California State law requires that all incoming 7th grade students get a Pertussis booster shot, called the Tdap booster, before starting junior high. The Tdap vaccine can keep your child and family protected from whooping cough. Students who have not received this shot prior to the beginning of the school year on August 17 will not be allowed to start junior high.
We strongly recommend getting your child vaccinated. Getting the Tdap shot now will not only help protect your child against the ongoing threat of whooping cough but will also meet the school entry requirement for junior high.
We want to make sure your child starts junior high on time. We encourage you to contact your child's doctor or health care provider now to schedule an immunization appointment. Also, many local pharmacies offer the Tdap booster. Some children may qualify for free immunizations through the Vaccines for Children Program.
If your child has already obtained the Tdap booster shot, please send verification to the school as soon as possible.
Electronic Reader Board
Bidwell Jr. High students, staff, and PTA are respectfully requesting donations for a new electronic reader for the front of our school. This would be a wonderful addition to our upcoming remodel and refacing starting in 2015. It would be instrumental in helping us inform our parents and community of the many events and positive activities our students and school are involved in. Our PTA is spearheading the project and would greatly appreciate any support to achieve this goal. Chico local business - Hupp Signs & Lighting has graciously taken on our project, as they have for many other schools in our area.
How to Donate:
1. Electronically at http://www.gofundme.com/msrv9s
2. Write a check to Bidwell PTA and turn it in to the main office.
Thank you, Thank you, Thank you. We greatly appreciate your support!
Bidwell Projects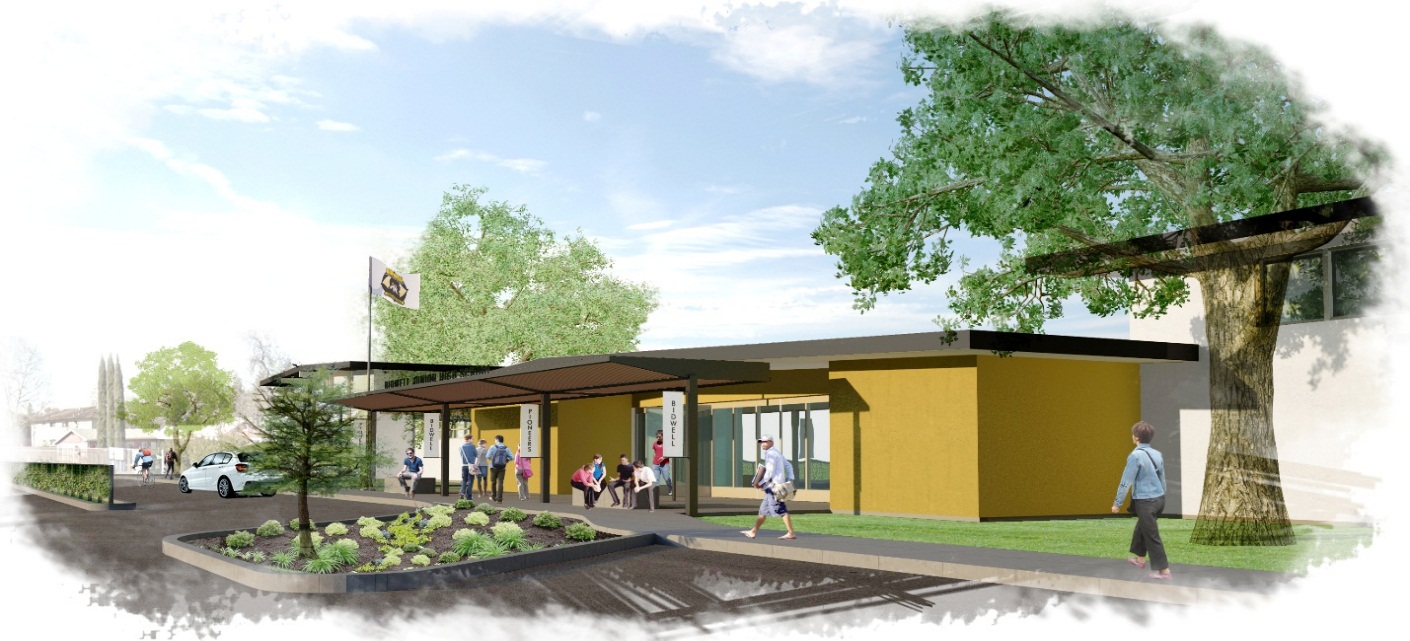 During construction, the front entrance to the school will be re-routed. Entrance to the school and main offices will be through an existing opening between the main office and the library.
Attendance, administration, and the office manager will be located in classroom 201
Counseling, the registrar and the ASB office will be located in classroom 202
The student health office will be located in classroom 204
Please click on the link below for information about the construction project.
Construction Newsletter
CUSD Construction Projects
Measure E Bond money is currently being used for upgrades at many school campuses in CUSD, including Bidwell Jr. High School! The Measure E Facilities Newsletter gives an overview of projects planned. Or, you can check out the CUSD Facilities and Construction Facebook page at www.facebook.com/CUSDFacilitiesandConstruction for ongoing construction news.
CUSD Facebook Page
Are you unsure of registration deadlines?
Interested in Measure E spending?
Curious about the food served in our school cafeterias?
The Chico Unified School District is now on Facebook! Be the first to learn about new programs, how to
handle emergency situations, and see all the great things happening at our schools! You can search
for us on Facebook – type "Chico USD" – or use the link at the bottom of our home page on our
School Bus Information
Click on the link below for school bus fees and information:
School Safety
2014-2015 Goals
Mission and Vision Statement
Please click on the link below to read Bidwell's mission and vision statement.
History of Bidwell Junior High
| | |
| --- | --- |
| Delve into Bidwell's past and get an idea of what it was like here in the late 1950's. | |