Welcome to Bidwell Junior High School
2376 NORTH AVENUE . CHICO, CA . 95926
Phone: (530) 891-3080
Fax: (530) 891-3082
PRINCIPAL: JUDI ROTH
ASSISTANT PRINCIPAL: LAURIE DEBOCK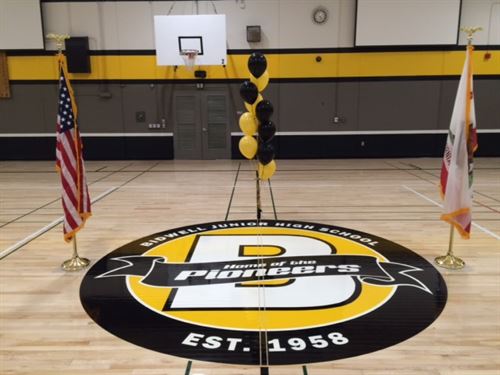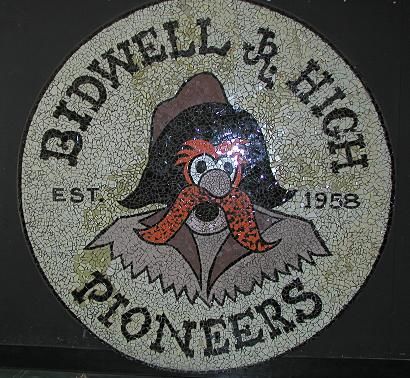 Enrollment:
569
Constructed: 1959
School Colors: Black and Gold
School Mascot: Pioneers
BE SAFE, RESPONSIBLE, & RESPECTFUL
8th Grade Promotion
Friday, June 3rd

Following is a list of tips that we hope will help you ensure that your students take care of things that need to be done to ensure a happy last week of school.
If your student has any outstanding debts at school they need to be paid or their certificates will be withheld until they are paid. Debts include textbooks, library books, any other charges for lost or damaged school property and outstanding debts to other schools. A list of those who still have debts will be read at promotion practice on Thursday, June 2nd. Students on this list must resolve their debt to receive their certificates on Friday.
Appropriate dress is very important for the promotion ceremony. Formal dress is not allowed. Gentlemen are asked to wear nice pants and a collared shirt. It is certainly OK to wear a tie. Ladies dress in sundresses or something that is of a similar level of formality. High-heeled shoes are not allowed because of safety on the ramp.
Students need to report for line-up for the ceremony, Friday, June 3rd by 8:00 a.m. The processional will start at 8:30 a.m.
Students must not carry anything in their hands during the ceremony.
Parents may not enter the student seating area until after the ceremony.
Students must not leave their seat until the ceremony is over.
Promotion takes place on the basketball courts. Chairs for the students will be provided but please bring lawn chairs for your family and guests.
If possible, please do not bring balloons to the ceremony because they obstruct the views of the audience. If you do bring balloons, please take them to Room 408 and you can pick them up after the ceremony.
BLAST Applications for 2016-2017
Click on link below for a BLAST application for the 2016-2017 school year.
8th Grade Events Spring 2016
Incoming 6th Grade Information
Click on the link below to view the PowerPoint presentation from the incoming 6th grade parent meeting.
Parent and Student Information
Welcome to Bidwell Junior High School
Electronic Reader Board
Bidwell Jr. High students, staff, and PTA are respectfully requesting donations for a new electronic reader for the front of our school. This would be a wonderful addition to our upcoming remodel and refacing starting in 2015. It would be instrumental in helping us inform our parents and community of the many events and positive activities our students and school are involved in. Our PTA is spearheading the project and would greatly appreciate any support to achieve this goal. Chico local business - Hupp Signs & Lighting has graciously taken on our project, as they have for many other schools in our area.
How to Donate:
1. Electronically at http://www.gofundme.com/msrv9s
2. Write a check to Bidwell PTA and turn it in to the main office.
Thank you, Thank you, Thank you. We greatly appreciate your support!
CUSD Facebook Page
Are you unsure of registration deadlines?
Interested in Measure E spending?
Curious about the food served in our school cafeterias?
The Chico Unified School District is now on Facebook! Be the first to learn about new programs, how to
handle emergency situations, and see all the great things happening at our schools! You can search
for us on Facebook – type "Chico USD" – or use the link at the bottom of our home page on our
School Bus Information
Click on the link below for school bus fees and information:
School Safety
2014-2015 Goals
Mission and Vision Statement
Please click on the link below to read Bidwell's mission and vision statement.
History of Bidwell Junior High
| | |
| --- | --- |
| Delve into Bidwell's past and get an idea of what it was like here in the late 1950's. | |