BLAST SPRING BREAK CAMP
Pioneer After School Scholars Program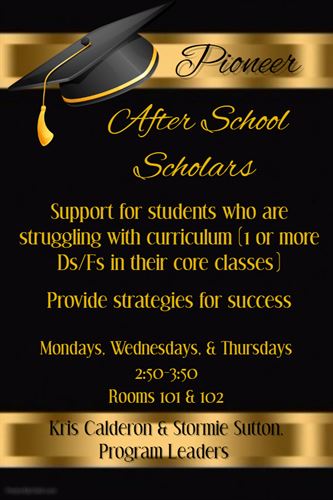 Our Pioneer After School Scholars Program. The objective of this program is to support students who have one or more Ds/Fs in their core classes (Math and ELA). The program takes place after school from 2:50-3:50 on Mondays, Wednesdays, and Thursdays in Rooms 101 and 102.
The purpose of this program is to do the following:
Support students who are struggling with curriculum

Provide pre-teach and re-teach of curriculum

Provide strategies for success

Organizational skills
For more information regarding the program, please feel free to contact your student's counselor at 891-3080.
A-G Sandra Villasenor, x117
H-M Melanie Verdone, x115
N-Z Lisa Winslow, x116
Mission and Vision Statement
Please click on the link below to read Bidwell's mission and vision statement.
Parent and Student Information
Electronic Reader Board
Bidwell Jr. High students, staff, and PTA are respectfully requesting donations for a new electronic reader for the front of our school. This would be a wonderful addition to our upcoming remodel and refacing starting in 2015. It would be instrumental in helping us inform our parents and community of the many events and positive activities our students and school are involved in. Our PTA is spearheading the project and would greatly appreciate any support to achieve this goal. Chico local business - Hupp Signs & Lighting has graciously taken on our project, as they have for many other schools in our area.
How to Donate:
1. Electronically at http://www.gofundme.com/msrv9s
2. Write a check to Bidwell PTA and turn it in to the main office.
Thank you, Thank you, Thank you. We greatly appreciate your support!
Sign up for Remind!
Bidwell Junior High School Foundation
The Bidwell Junior High School Foundation is an independent organization separate from Bidwell Junior High. Our motto is "Helping Students Pursue Success". Our mission is to provide resources for the enhancement of the academic, co-curricular and extra curricular learning opportunities for students at Bidwell Junior High School.



Click on the link below to visit this foundation's website.